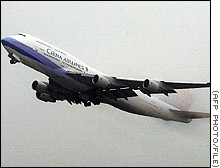 TAIPEI, Taiwan (CNN) -- A China Airlines flight from Taiwan to Hong Kong has crashed in the Taiwan Strait with more than 200 people on board, Taiwan's civil aviation authority has confirmed.
Life vests, aircraft debris and an oil slick were found in the sea near the Pescadore Islands, the area where the plane, Flight CI611, disappeared off radar screens on Saturday, Taiwanese premier Yu Shyi-kun said.
Search teams from Taiwan's air force and coast guard have reported finding one body but so far no survivors have been found.
The body was found in the Taiwan Straits near the Pescadore Islands, the Civil Aviation Authority said.
"We need to concentrate on the rescue effort. As for the investigation to what and how it happened, we would have to wait till later," Yu said.
The plane, a 22-year-old Boeing 747-200, was carrying 225 people, including 19 crew members.
Wang Cheng-yu, an official with China Airlines, said most of the passengers were Taiwanese but there was also on board two Singaporeans, two Australians, 14 from Hong Kong, Macau or China and one European.
A former legislator at the Taiwan parliament and two journalists from the Taiwan United Daily News paper were said to be among the passengers.
Flight C1611 took off just after 3:00 p.m. (0700 GMT) from Taipei's Chiang Kai-shek International Airport airport and disappeared about 20 minutes into the the one hour 20 mins flight.
Officials said it was not known what caused the crash but that no emergency call had been received from the plane.
"Before disappearance, the plane's condition, the weather and the flight condition were normal. Aviation authorities did not receive any SOS from the pilot," Taiwan's Civil Aeronautics Administration said in a statement.
China Airlines, Taiwan's national and biggest air carrier, was considered one of the world's most dangerous airlines after a series of crashes in the 1990s. Aviation Web site airsafe.com lists the airline as having nine fatal accidents since 1970.
In recent years, the carrier has put more emphasis on safety.
The last known fatal China Airlines accident occurred in 1999 when a passenger jet flipped over and burst into flames during a crash landing in Hong Kong. Three people were killed.