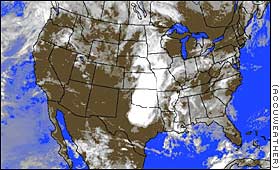 Heavy rain fell across wide areas of the middle Mississippi River valley and the central Plains states Friday, while several towns and cities in the Dakotas reported record low temperatures.
Parts of Missouri, Nebraska and Kansas reported heavy rains, with as much as 2 inches falling in some places. Other areas, such as Parsons, Kansas, reported receiving as much as 3 inches of rain. Flash flooding was reported in northeastern Kansas and southeastern Nebraska.
Heavier thunderstorms storms with hail, lightning, high winds and heavy rains were expected later Friday in parts of Illinois and Missouri.
Central areas of Colorado posted winter storm warnings for heavy snows in the higher elevations.
Patchy, dense fog was reported along the southern coastal areas of California, with visibility reduced to under a quarter of a mile Friday morning in some places.
High pressure remained over the rest of the West, bringing fair and dry conditions from the Pacific Northwest down through California and the Southwest.
Widely scattered showers fell along a cold front from western New York through central Ohio, central Indiana and down to southern Illinois. Most showers were light, though heavier amounts were reported in parts of Indiana.
Other parts of the East had clear and dry conditions.
Among the towns reporting record low temperatures were Williston, North Dakota where the temperature was 23 degrees and Rapid City, South Dakota, where the mercury dropped to 23 degrees.
Temperatures in the Lower 48 states Friday ranged from a low of 21 degrees in Sheridan, Wyoming, to a high of 94 degrees in Wink, Texas.