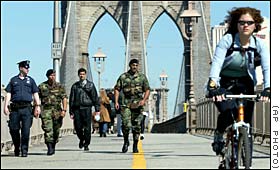 WASHINGTON (CNN) -- Americans head into their three-day Memorial Day weekend with alerts about terrorism ringing in their ears.
As the FBI warned Friday that terrorists may try to use small aircraft for suicide attacks, the nation's nuclear power plants were placed on a heightened state of alert.
The Nuclear Regulatory Commission sent a special advisory to 103 plants to be cautious, based on information from the intelligence community, the Associated Press reported.
Alerts earlier this week involved everything from tall apartment buildings to the Statue of Liberty to scuba divers and subways.
"If I took them really seriously I'd be underground someplace," said one woman riding the New York subway.
National Transportation Safety Board Chairman Marion Blakey said the various warnings were "very diffuse," and that law enforcement and transportation officials across the country are on high alert for the Memorial Day weekend rush.
She also said the public should be alert for unattended packages and suspicious people when they travel.
"We all know that there are certain kinds of behavior that makes us nervous, there may be good reason," she said. "We have cell phones these days, we need to use them."
However, Blakey said "simply hiding won't change the threat," so people should go ahead and live their normal lives.
She also emphasized that people are at a much greater risk of dying from drinking and driving accidents or failing to wear a seat belt than from terrorist attacks.
Thursday, the FBI said it had received uncorroborated and unconfirmed information about a possible threat from underwater divers. It did not include any specific locations or industries that may be targeted.
FBI sources said the alert was based on information from continued questioning of hundreds of detainees captured in Afghanistan during the ongoing war against terror.
FBI field offices will contact officials at industries they believe might be the most vulnerable to an underwater attack, including atomic power stations, which draw reactor cooling water from nearby waterways.
The Coast Guard also notified all major ports and shipping lines, as well as the power, cruise ship and pipeline industries, U.S. Coast Guard spokesman Cmdr. Jim McPherson said.
Since September 11, FBI investigators asked dive training industry officials for the names of all people who had been trained in the use of sophisticated "rebreathers," one industry official said.
Unlike recreational scuba gear, the closed circuit rebreathers and semi-closed rebreathers produce very few or no bubbles, and some do not have magnetic signatures.
On Wednesday, the U.S. Department of Transportation issued a threat advisory to transit systems across the country after intelligence reports indicated someone might be considering attacks against subway systems in the United States, DOT spokesman Chet Lunner said.
The "threat advisory" does not rise to the level of a warning, he said.
One subway rider said he didn't think he'd change his behavior much.
"You keep your eyes out and I think you look for people that just might be some unsavory characters, but I think anybody that rides the subway is always very much on guard," he said.
The FBI previously sent out notifications involving threats against the banking industry and other sectors of the economy.