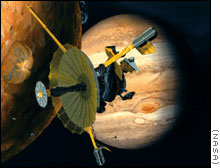 (CNN) -- NASA engineers plan to conduct one more cautious test to fix a jammed tape recorder on the deep space probe Galileo. If that does not work, they will resort to more extreme measures to repair the instrument.
Galileo, which has orbited Jupiter since 1995, is slated to conduct one more major scientific excursion before plunging to its death into the giant planet.
In April, the $1.4 billion probe developed the glitch in its tape player, which stores data to be radioed back to Earth. After several unsuccessful attempts, ground controllers will try again Wednesday to release the tape with a low-speed test.
After then, "our efforts will ... become more aggressive, possibly trying to move the tape at higher speeds, which should provide more 'oomph' to pulling the tape free," Galileo scientists said this week in a status report.
The glitch first appeared during a maintenance check, ahead of a November flyby of Amalthea, a small inner moon of Jupiter. Fortunately, the probe had already completed transmitting data collected during its final and closest pass in January over Io, a much larger moon.
During that and other forays into the powerful radiation belts surrounding Jupiter, Galileo has endured more than three times the radiation it was designed to withstand.
Its camera went on the blink during the last Io flyby, which brought the bus-sized craft to within 62 miles (100 km) of the surface of the highly volcanic moon.
Other instruments remain in good working order. But with its fuel nearly exhausted, Galileo is being directed on a collision course into the crushing atmosphere of Jupiter.
The suicide run, slated for September 2003, is to ensure that the Galileo does not strike and contaminate the moon Europa, which scientists think could harbor microbial life.