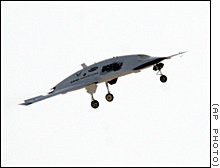 LOS ANGELES, California (AP) -- A prototype of the first robotic plane designed specifically for combat missions made a successful maiden flight, officials said Thursday.
The Boeing Co.'s X-45 flew for 14 minutes, completing a wide oval above Edwards Air Force Base in the California desert before landing on a dry lake bed.
"It performed just as expected," said Rich Alldredge, Boeing's X-45 program manager.
Boeing's Phantom Works in St. Louis built the plane for the Pentagon's Defense Advanced Research Projects Agency and the Air Force. The military sees such aircraft taking part in its most dangerous missions, usually in initial attacks to suppress enemy air defenses.
During Wednesday's flight, the sleek, tailless jet flew to 7,500 feet and reached a top speed of 224 mph. The plane flew autonomously on a programmed course, with a ground-based controller commanding it only to change its airspeed. Its landing gear remained locked in place during the flight.
The plane, with 34-foot wingspan, is the first drone designed specifically to carry weapons into combat, a role the Air Force sees the eventual larger production versions being capable of by 2008. Other robotic planes, including a spy drone called the Predator currently being used in Afghanistan, have been modified to carry weapons.
At least five of the propeller-powered Predators have crashed since the United States began its anti-terror campaign in Afghanistan in October, but Glenn Buchan, a senior defense analyst with the Rand Corp., said that robotic planes have not flown long enough to assess their performance. The Predator, he said, was hustled into combat while still under development.
"It looks like these things have a lot of promise and we are relatively bullish on them for a lot of applications, but there are a lot of bugs with them, as there are with all vehicles, and the way you work them out is by flying them," Buchan said.
Leahy said the X-45 would "hunt in packs," carrying up to 3,000 pounds of guided bombs to drop on enemy radar and surface-to-air missile batteries. Officials hope to fly a swarm of the planes by late 2003.
"We believe it will transform the way we fight wars in the future," said David Lanman, who is responsible for UAV technology planning for the Air Force Research Laboratory.
Boeing hopes to build hundreds of the planes, which would cost $10 million to $15 million each, about one-third the cost of the next-generation strike fighter. Boeing recently lost a contract to build those piloted planes to competitor Lockheed Martin.